Universal Primer
A solvent-based primer with deeply penetrative acrylic resin component that allows for better adhesion of topcoats.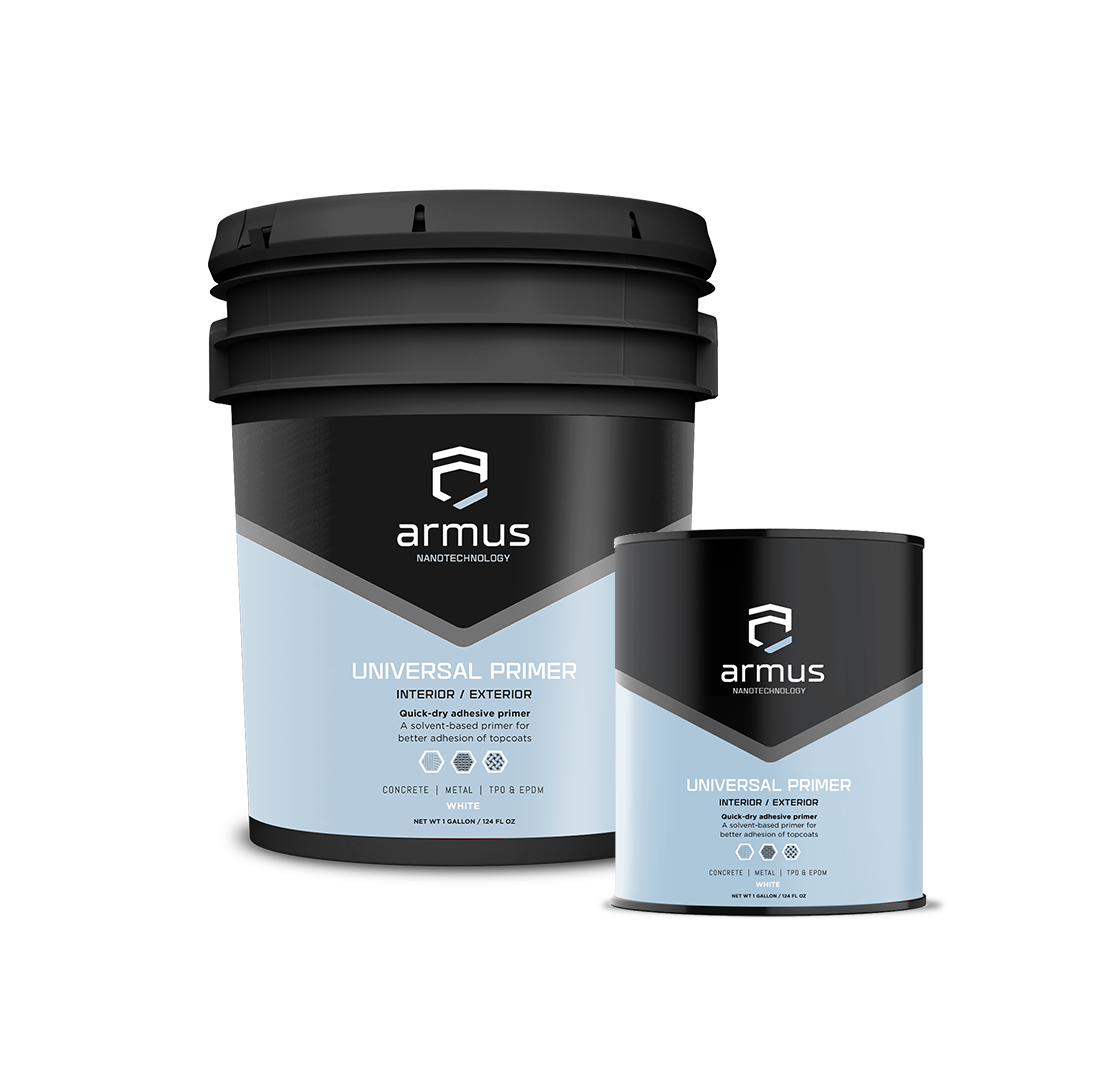 Ultra-Strong Adhesion

Corrosion Protection

Anti-Rust

Fast-Curing Formula

Single-Component Formula
Concrete

Brick & Mortar

Metal

Plaster & Stucco
Our Universal Primer is a fast-curing resin that anchors on the most demanding surfaces. Its application results in a flexible membrane that can withstand temperature fluctuations. It's rust-inhibitive and designed for commercial, new construction and maintenance applications. It can be used under water-based or solvent-based high-performance topcoats.
SURFACE PREP
All surfaces should be clean, dry and free from 

dust, oil, grease and other contamination.
APPLICATION
Shake well before use. 

Dilute up to 10% by volume with Armus Thinner A. 

Apply an even layer using good quality and clean brush, roller, or spray with a nozzle 1.4 mm or more in diameter. 

Adverse conditions during or immediately after application may affect the properties of the material.

Allow to dry. Touch-dry in 1 hour, depending on the thickness of the layer. Drying time may be prolonged under low temps / high humidity. Full cure in 24 hours.
ESTIMATED CONSUMPTION
Up to 285 sq.ft. per gallon, dependent on properties of surface.
FORM/TYPE

Acrylic primer

COLOR

White

DENSITY

65±3

RELATIVE HUMIDITY

Maxminum 80%

DRYING TIME

1 hour*

TOOL CLEANING

ARMUS Thinner A

*Drying time dependent on thickness of the layer, and may be prolonged under low temperatures and high humidity.
WARNING: 
Flammable. Keep away from heat.

Harmful if swallowed / inhaled.

Causes skin/eye irritation.

May cause allergic reaction. 

Do not eat, drink or smoke when using this product.

Use only outdoors or in a well-ventilated area.

Contaminated work clothing/gear should not be allowed out of the workspace.

Avoid breathing dust / fumes / vapors. Use in a well-ventilated area and wear proper protective gear and clothing prior to application.
STORAGE & DISPOSAL
Store indoors in a closed container. Storage temperature should be between +50°F to 95°F (+10°C to +35°C).

Disposal of container and material safely according to local laws and regulations.
SEE Universal Primer IN ACTION
REQUEST INFO
Interested in this product? Please fill out this form and we'll send you more details.