Thermal Guard Exterior
A 2-part polyaspartic metal topcoat that creates a waterproof barrier, provides thermal insulation and blocks heat transfer, saving on energy costs.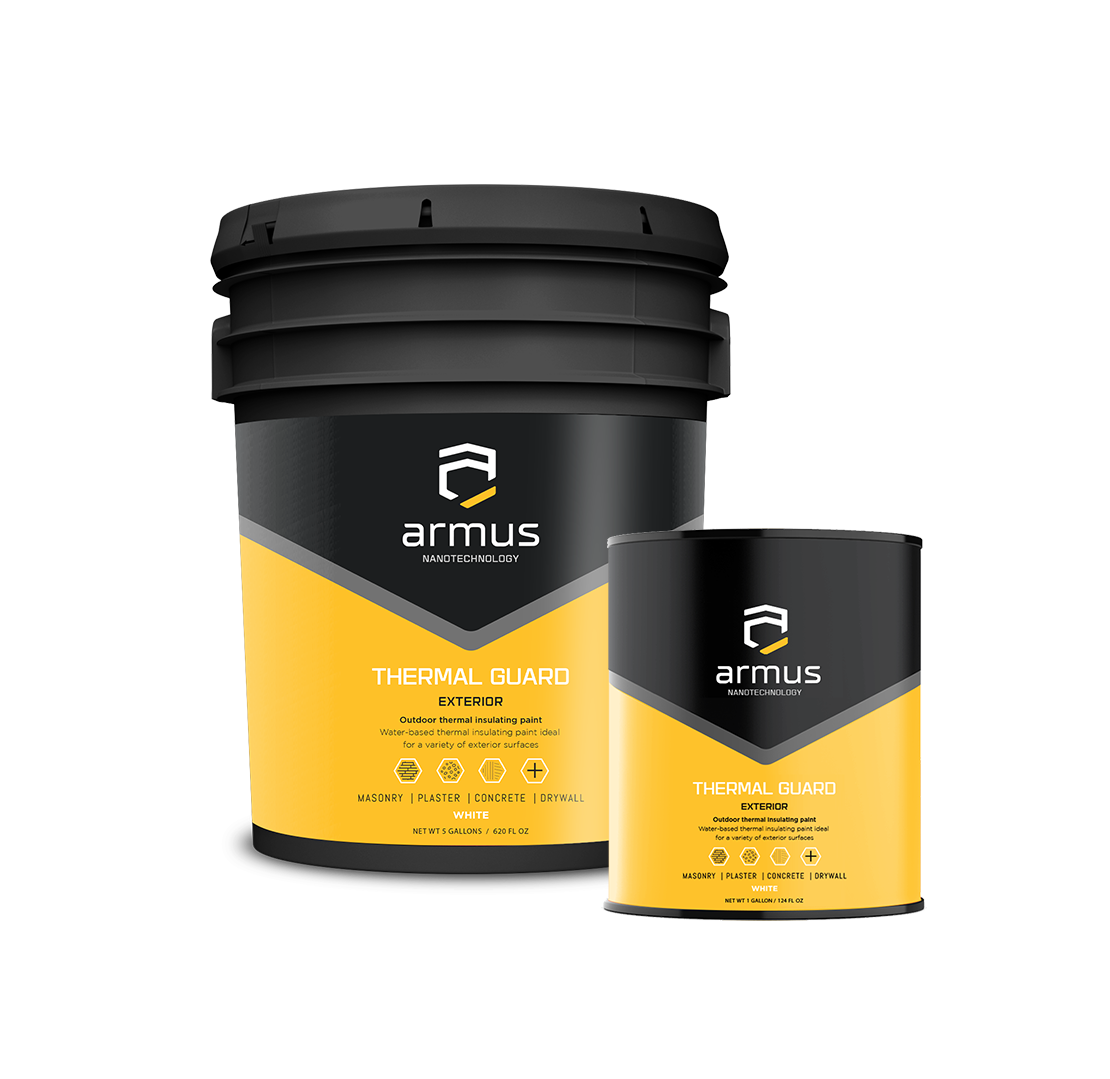 Blocks Heat Transfer

Retains Breathability

UV-Protectant

Creates Water-Repellent Barrier

Cost-Effective
Concrete

Brick & Mortar

Plaster & Stucco
Thermal Guard Exterior provides significant reduction in thermal conductivity, reflectance of thermal radiation and decreased water absorption. It can prevent the development of Urban Heat Islands (UHIs), by reflecting more than 90% of the incident heat radiation away from the structure, saving on energy costs for commercial, residential & industrial buildings.
High Energy Costs
SURFACE PREP
All surfaces should be clean and dry.

Substrate temp should be 46.4°-95°F (8°-35°C)

Stir well before application. Do not dilute for 

bridging gaps and hairline cracks of up to 0.5 mm.
For cracks larger than 1mm, fill the gap with a suitable putty.
If thinning is required add up to 10% water by volume.

For new cement/masonry substrates, allow to cure for > 4 weeks prior to application.
APPLICATION
Apply 2-3 even coats using a good quality brush, roller or by spraying with a tip of a diameter 1.4mm or more. 

Do not overbrush. Ensure corners / edges are adequately covered. 

Additional coats should be applied 4-6 hours after the previous application.
ESTIMATED CONSUMPTION
Up to 400 sq.ft. per gallon, dependent on properties of surface.
FORM/TYPE

Water-based 100% acrylic

COLOR

White (can be used as tinting base)

DENSITY

1.05±0.05kg/L

pH

9.0±0.5

VOC

11g/L

VISCOSITY

110±15 KU

THINNER/CLEANING SOLVENT

Water

SUBSTRATE APPLICATION TEMPERATURE

46.4°F-95°F (8°C-35°C)

MIXING RATIO

Up to 10% by volume

DRY THROUGH TIME

1h @ 68°F (20°C)

MINIMUM RECOAT INTERVAL

4-6h @ 68°F (20°C)

Drying & recoating time may be prolonged under low temperatures and high humidity.
WARNING: 
Use in a well-ventilated area.

Remove and wash contaminated 

clothing prior to reuse.

Wear proper protective gear and 

clothing, eye or face protection prior to application.
STORAGE & DISPOSAL
Store indoors in a closed container. Storage temperature should be between +50°F to 95°F (+10°C to +35°C).

Protect from frost.

Disposal of container and material safely according to local laws and regulations.
SEE Thermal Guard Exterior IN ACTION
REQUEST INFO
Interested in this product? Please fill out this form and we'll send you more details.