Metal Guard
A 2-part nano-formulated high-gloss metal protectant that cleans easily and prevents future rust and corrosion.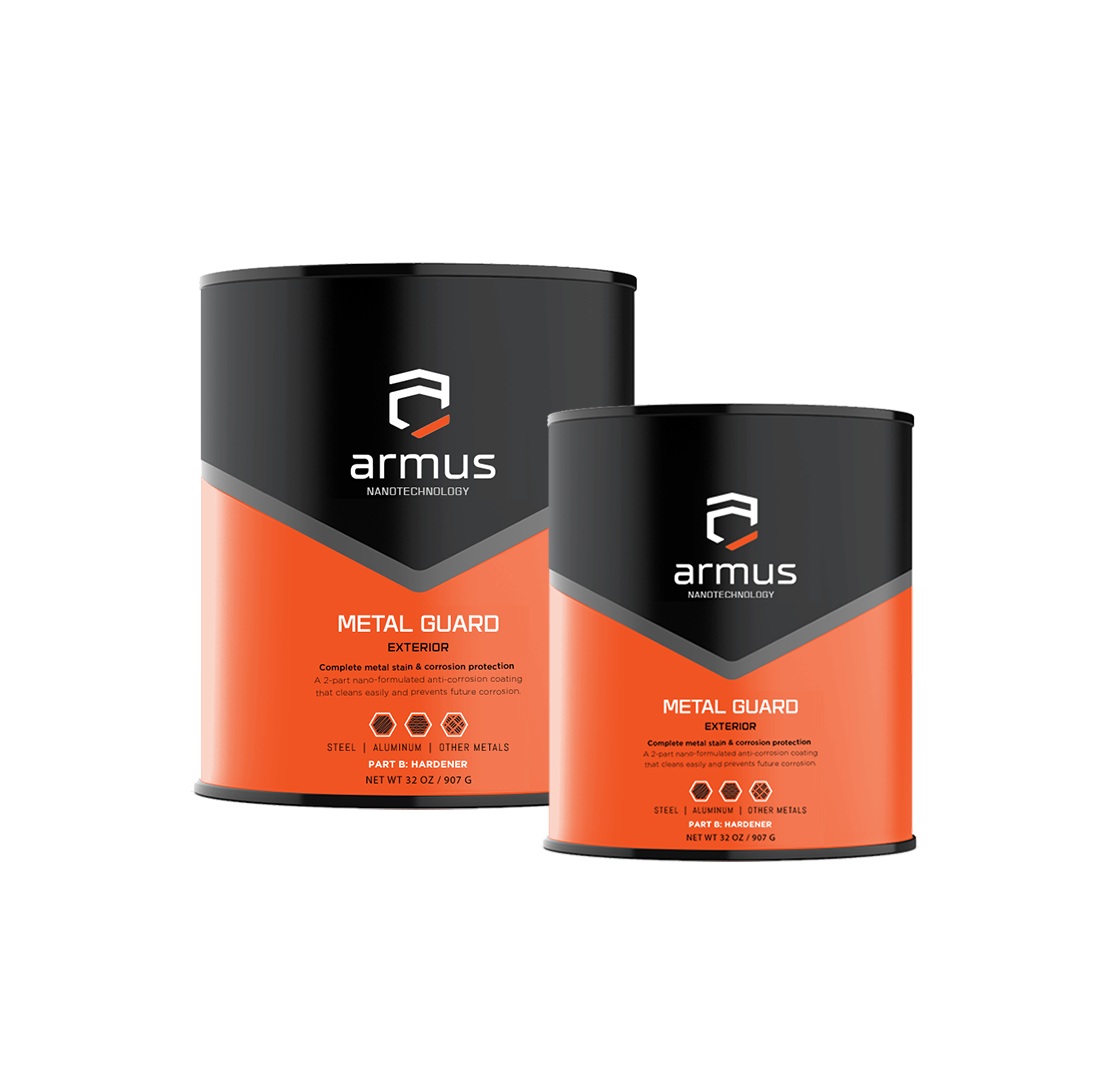 Corrosion Protection

Anti-Graffiti & Stains

High Gloss Finish

Easy to Clean
Aluminum

Brass

Bronze

Steel

Metal Alloys

Iron
Metal Guard is developed with the environment in mind. Our formula is not self-sacrificial and doesn't contain PFOS / PFAS or Teflon. The coating's prevents corrosion, reducing maintenance and cleaning costs while providing a high gloss finish.
STAINED METAL SURFACES

Corrosion

Weld Failures
SURFACE PREP
Wipe all surfaces clean of dust & debris.

Wear protective gloves & gear before applying

Clean metal surface completely with

 Xylol Xylene thinner & microfiber cloth, 
APPLICATION
Completely mix Part A (Base) & Part B (Hardener) together

Stir well for a minimum of 2 minutes

By Spraying: Paint pressure pot with power agitator, double air regulators, moisture trap, 1/2" ID fluid hose, 5/16" ID air hose, DeVilbiss 510 gun, "E" tip and needle, 74 or 78 air cap

By Airless Spray: min. pump: 30:1, Nozzle: 19-23

By Brush: Only for stripe coating or small, narrow areas

Allow to dry. Touch-dry in 4 hours. Full cure in 24 hours.
ESTIMATED CONSUMPTION
Up to 431 sq.ft. per gallon, dependent on properties of surface.
FORM/TYPE

SIlicone-epoxy

COLOR

Transparent

MIXING RATIO

4:1 (Part A : Part B)

VOC

<240g/L

SOLIDS

80±3

MAXIMUM POT LIFE

6h @ 68°F (20°C)

TOUCH DRY TIME

3h @ 68°F (20°C)

DRY THROUGH TIME

12h @ 68°F (20°C)

MINIMUM RECOAT INTERVAL

24h @ 68°F (20°C)

MINIMUM TIME TO INVERSION

24h @ 68°F (20°C)

INDUCTION TIME

15min @ 68°F (20°C)

FLASH POINT

>>73.4°F (23°C)
WARNING: 
Flammable. Keep away from heat.

Harmful if swallowed / inhaled.

Causes skin/eye irritation.

May cause allergic reaction. 

Do not eat, drink or smoke when using this product.

Use only outdoors or in a well-ventilated area.

Contaminated work clothing/gear should not be allowed out of the workspace.

Avoid breathing dust / fumes / vapors. Use in a well-ventilated area and wear proper protective gear and clothing prior to application.
STORAGE & DISPOSAL
Store indoors in a closed container. Storage temperature should be between +50°F to 95°F (+10°C to +35°C).

Disposal of container and material safely according to local laws and regulations.
SEE Metal Guard IN ACTION
REQUEST INFO
Interested in this product? Please fill out this form and we'll send you more details.