Graffiti Guard
A water-based anti-graffiti protectant that prevents paint and stain adhesion on various surfaces.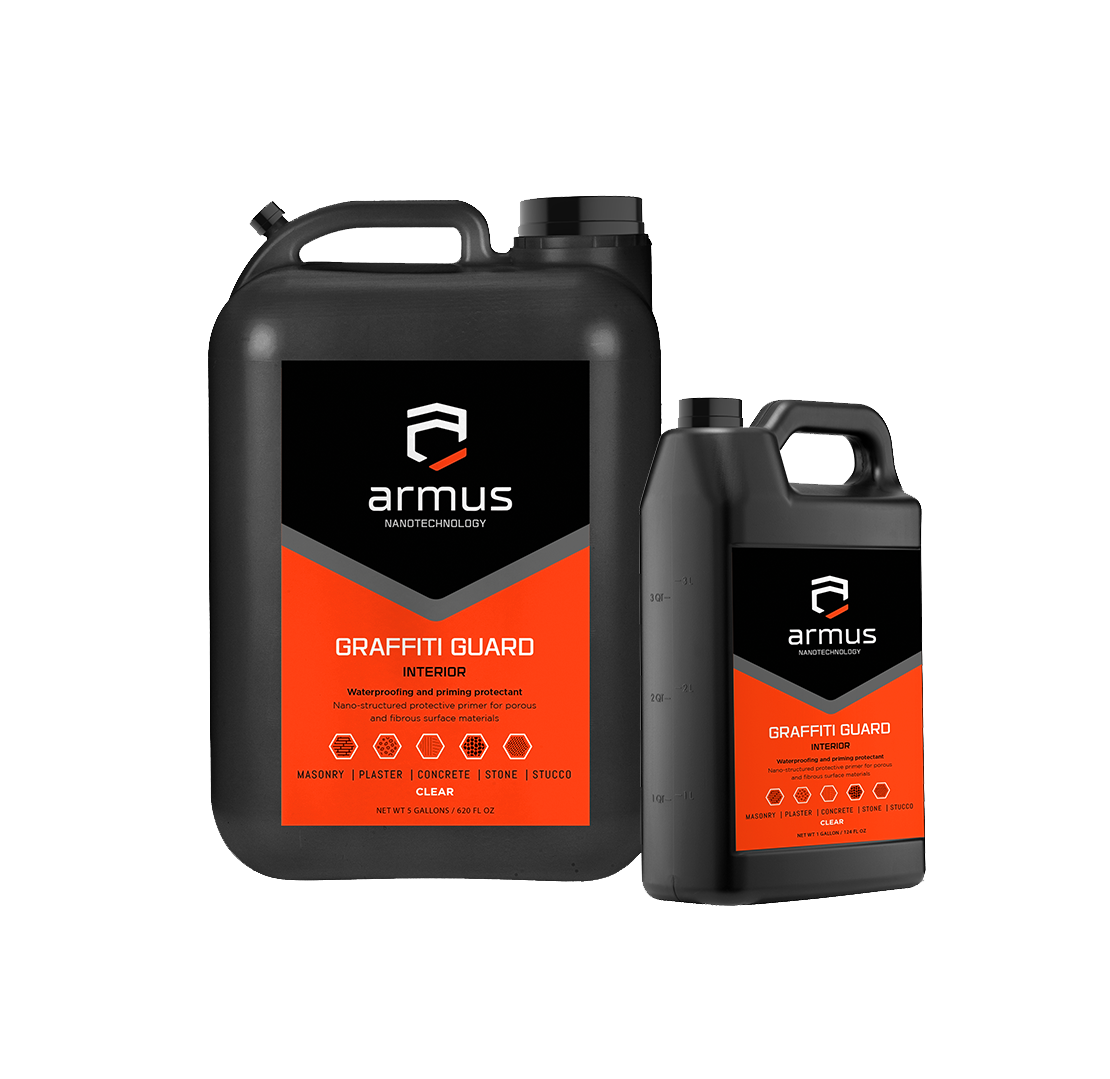 Anti-Graffiti & Stains

Preserves Natural Appearance

Satin Finish

Easy to Clean

UV-Protectant

Cost-Effective
Concrete

Brick & Mortar

Porous Stone

Painted Exterior Walls
ARMUS Graffiti Guard is a water-based, low VOC formulation that creates a stain-resistant 3D barrier on a surface from the inside out. Graffiti and paint stains are prevented from adhering permanently to the surface, making treated surface cleaning easy and cost-effective. Simply scrub using warm water and a stiff brush or steam clean.
Stained Exterior Façades
SURFACE PREP
Wipe all surfaces clean of dust & debris.

New substrates from cement and masonry

 should be cured > 4 weeks prior to application. 

Perform all repairs to damaged surfaces and fill

 any cracks, or holes by using the appropriate repairing material.
APPLICATION
Shake well before application. No dilution is required. 

Apply by using spray, brush, or roller without runs, drips or spills.

2 coats recommended.

Before full-scale application, test results in a small area. 

Maximum protection is achieved 1 week post-application.

New stains should be cleaned within 1 week of appearing.

Re-apply 1 coat of Graffiti Guard after every 5-7 washings.
ESTIMATED CONSUMPTION
Up to 950 sq.ft. per gallon on polished surfaces.

Up to 325 sq.ft. per gallon on unpolished porous surfaces.
FORM/TYPE

Water-based solution

COLOR

White emulsion

GLOSSINESS

Semi-gloss/satin

DENSITY

1.00± 0.02 g/cm³

ODOR

Slightly acetic

pH

4.0±1.0

VOC

33 g/L

VISCOSITY

2mPa-s @ 68°F (20°C)

APPLICATION TEMPERATURE

41°F-95°F (5°C-35°C)

SKIN-OVER TIME

45min*

TACK-FREE TIME

90min*

RE-COAT TIME

4-6 hours*

FULL CURE TIME

5-7 days*

*at 77°F and 50% relative humidity `150μm wet film thickness
WARNING: 
Use in a well-ventilated area.

Remove and wash contaminated 
   clothing prior to reuse.
Wear proper protective gear and

 clothing, eye or face protection prior to application.

Combustible & flammable liquid. Keep away from heat or open flame. Do not smoke while using this product.
STORAGE & DISPOSAL
Store indoors in a closed container in a well-ventilated area. Storage temperature should be between +50°F to 95°F (+10°C to +35°C).

Protect from frost.

Disposal of container and material safely according to local laws and regulations.
SEE Graffiti Guard IN ACTION
REQUEST INFO
Interested in this product? Please fill out this form and we'll send you more details.