Floor Guard Extreme
A 2-part self-leveling polyaspartic elastomeric coating with high resistance to abrasion, impact, water and UV damage.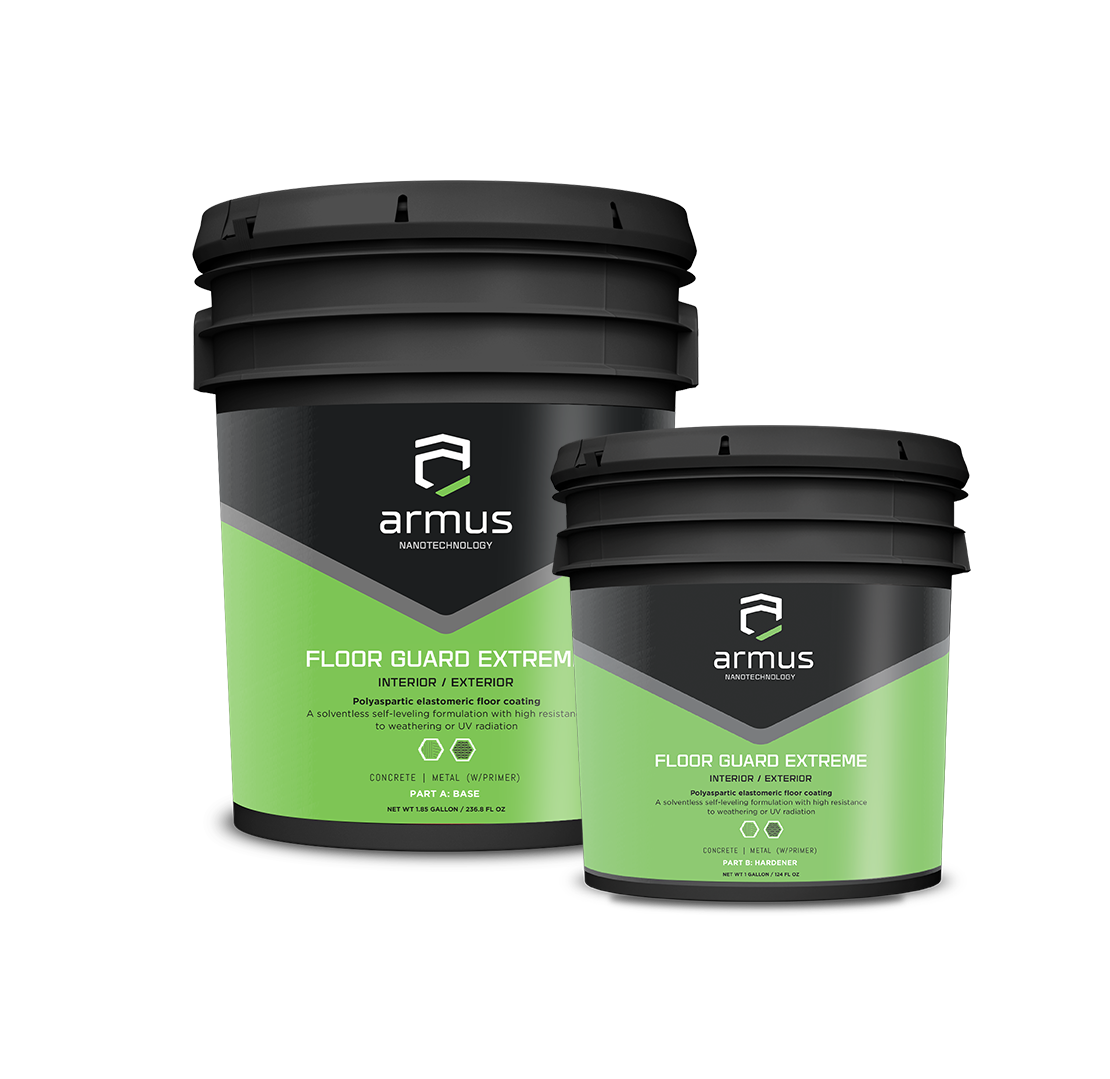 SEE WHY THE PROS CHOOSE FLOOR GUARD EXTREME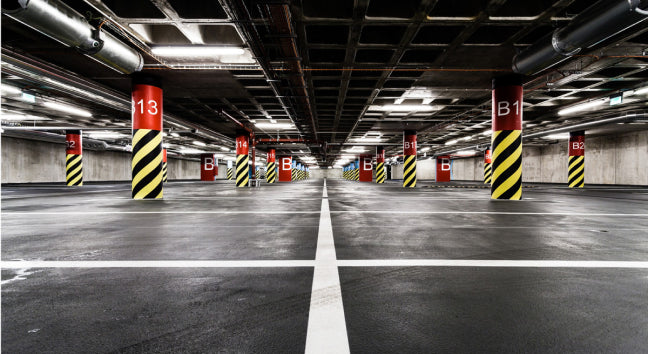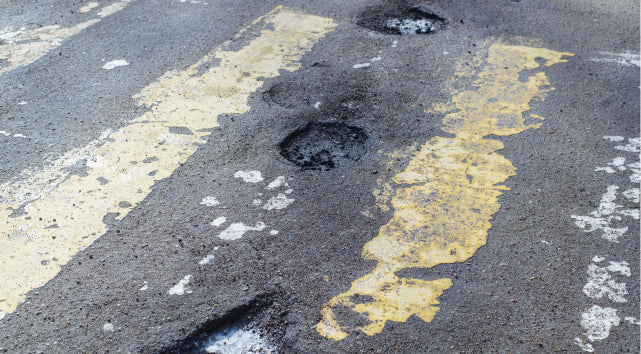 WHY YOU NEED IT
DURABLE AND FLEXIBLE PROTECTION
Floor Guard Extreme is a fully bonded coating suitable for the most demanding surfaces. With a modified polyaspartic component, FGE assures extreme values of tensile strength, elasticity, and adhesion to substrates. With its extreme durability, it is ideal for high-traffic interior and exterior surfaces.
WATER, UV, AND WEATHER-RESISTANT
Unlike other traditional exterior paints, FGE presents a unique resistance to harsh weathering, standing up to ponding water or heavy UV irradiation values, meaning it lasts longer, won't fade, and requires less maintenance.
EASY AND QUICK TO APPLY
FGE is designed for a quick application with a self-leveling finish. The working time is 45 minutes, allowing applicators to take their time to ensure full and even coverage. After application, FGE fully dries and cures within 24 hours, which is beneficial on sites and projects where minimizing downtime is crucial.
Choose the Armus C
ombo
FGE can be applied directly to new substrates and surfaces that have been cleaned. For older substrates, FGE binds and adheres best together with ARMUS WATER-BORE EPOXY PRIMER, which also provides an additional layer of water-repellency on the treated surface.
Use Cases
Floor Guard Extreme creates a flexible and long-lasting water-resistant barrier on high-traffic, high-impact flooring and exterior surfaces. Its flexibility lets it expand and contract without failing in changing temperatures, and its modified polyaspartic formulation protects surfaces.
Floor Guard Extreme can protect from:
Water damage
Ponding water
High impact / high-traffic
UV damage and fading
It can be applied to:
Interior warehouse floors
Exterior asphalt surfaces
Concrete surfaces
Road Markings
Parking lots and structures
Ramps
Decks
Industrial floors
Application Guide
Helpful resources
With the proper application and care, Floor Guard Extreme can provide long-term metal protection and energy savings. Application is simple and you can even do it yourself.

We have helpful downloadable guides for applying for specific substrates. Below, you can find the application guide for applying Floor Guard Extreme.
VIEW APPLICATION GUIDE (PRINTABLE)
Questions about application or post-application care? We've got you covered and we're here to help!
Required tools
Painter's tape
Power drill
Epoxy mixer
Paintbrush (2-4" wide for edges)
Paint roller extension
Paint Roller Cover
We recommend using a roller with a short nap so that Floor Guard Extreme applies evenly without being overly absorbed, pulled or dragged by the roller during application.
Squeegee (squeegee application only)
Dry Quartz Sand (squeegee application only)
Polyurethane sealant (optional)
4" fiberglass mesh (optional)
Armus Water-borne Epoxy Primer
Armus Water-borne Epoxy Primer works on almost every substrate and is specially formulated to provide added adhesion to Floor Guard Extreme. Its epoxy formulation also provides additional waterproofing protection. 
NOTE: ALWAYS TEST A SMALL AREA FOR SUBSTRATE COMPATIBILITY BEFORE FULL-SCALE APPLICATION. FLOOR GUARD EXTREME COMES IN BRIGHT WHITE. AVAILABLE IN OTHER COLORS AT MOQ. CONTACT US FOR DETAILS.
Surface prep
NOTE: ON NEW SURFACES AND INSTALLED REPAIR MATERIALS, ENSURE SUBSTRATE IS FULLY CURED PRIOR TO APPLICATION.
Wear protective gloves & gear before applying.
All surfaces should be clean, dry, and free from dust, oil, grease, loose materials, and contamination.
Scrub away mold or mildew, or power wash if necessary.
Allow surface to dry completely.
REQUIRED FOR OLD SURFACES: Apply base coat of ARMUS WATER-BORNE EPOXY PRIMER to increase adhesion. Allow WB-Epoxy Primer to cure and dry for 24 hours.
Fleecing joints, seams and penetration points may be required during the application of WBE Primer. See WBE Primer Application Guide for additional details.
Along the edges of a floor with vertical elements, connection-joints on the substrate (wider than 1mm) must be sealed with a polyurethane sealant 24 hours after the application of the Water-borne Epoxy Primer.
Allow 24 hours for the polyurethane sealant the cure before applying Floor Guard Extreme.
APPLICATION CONDITIONS
Substrate temperature should not exceed 68°F (30°C) and humidity content should not exceed 15% or the curing time values may change. Do not apply the product outdoors if rain is expected within 24 hours after application.
MEASURE COVERAGE AREA
Depending on your desired dry-film thickness, measure & use tape to mark the corners of the area on the metal surface for each application section. Doing so is the easiest way to ensure that you are not over-spreading the material, and that the application of Thermal Guard Metal is applied at the proper spread rate. We recommend a minimum 20mil dry-film thickness for Floor Guard Extreme.
Application instructions - by roller
Open Part A Base. Using a power drill and paddle paint mixer, mix Part A well for a minimum of 1 minute. It is composed of solids, so ensure Base is mixed until fully homogenous.
Pour all of Part B into the Part A container. Completely mix Part A (Base) & Part B (Hardener) together using mixer for a minimum of 1 minute. Mix at a low RPM in the Part A container.
If needed, transfer the mixed materials into a new bucket for easier roller application.
Start by brush-painting the perimeter edges.
Dip the roller into the mix for loading. Roll a liberal amount of the mixture onto the surface in a zigzag pattern. Then fill in the space with crisscross strokes.
Once the area is covered, "level the finish" by laying off long, parallel strokes.
Tape 4" (10cm) wide of fiberglass mesh across joints or cracks later than 1.5mm (60mils). Laying-off needs to be done before Floor Guard Extreme begins curing, so it's best to work in sections.
Working time for Floor Guard Extreme is 45 min at 77°F (25°C).
Allow Floor Guard Extreme to dry and cure. Floor Guard extreme cures in 24 hours.
After Floor Guard Extreme has cured, apply a polyurethane "flexible: sealant for "leveling-off" expansion joints. If needed, recoat after 180min.
Application instructions - by squeegee
You will need 1,500g of sand for each gallon of Floor Guard Extreme if applying by squeegee. For final dry film thickness of 20 mils, select quartz sand with thickness around 200 nanometers / 8 mils.
Empty the quartz sand into Base A, stirring vigorously. Always mix Hardener B to Base A. For each volume of Base A, add 2/3 of Hardener B by volume.
Use a mixing bucket, paddle mixer, and/or drill for thorough mixing.
Continue mixing for three minutes after adding Hardener B into base A. Ensure that the paddle mixer reaches all edges of the mixing container.
If needed, transfer the mixed materials into a new bucket for easier squeegee application.
Pour ½ liter of the mixture on the application area. Use a wide, good quality squeegee, notched at the desired dry film thickness. For example, 1mm notches for 1mm dry film thickness.
Spread uniformly by "pressing lightly" on the squeegee.
Then use a "spiked roller" for uniformity and degassing (removing air bubbles).
Working time for Floor Guard Extreme is 45 min at 77°F (25°C).
Allow Floor Guard Extreme to dry and cure. Floor Guard extreme cures in 24 hours.
SEE Floor Guard Extreme IN ACTION
REQUEST INFO
Interested in this product? Please fill out this form and we'll send you more details.