Deck Oil
Penetrative wood oil topcoat, ideal for hardwood decks, with excellent UV and oil protection and abrasion resistance.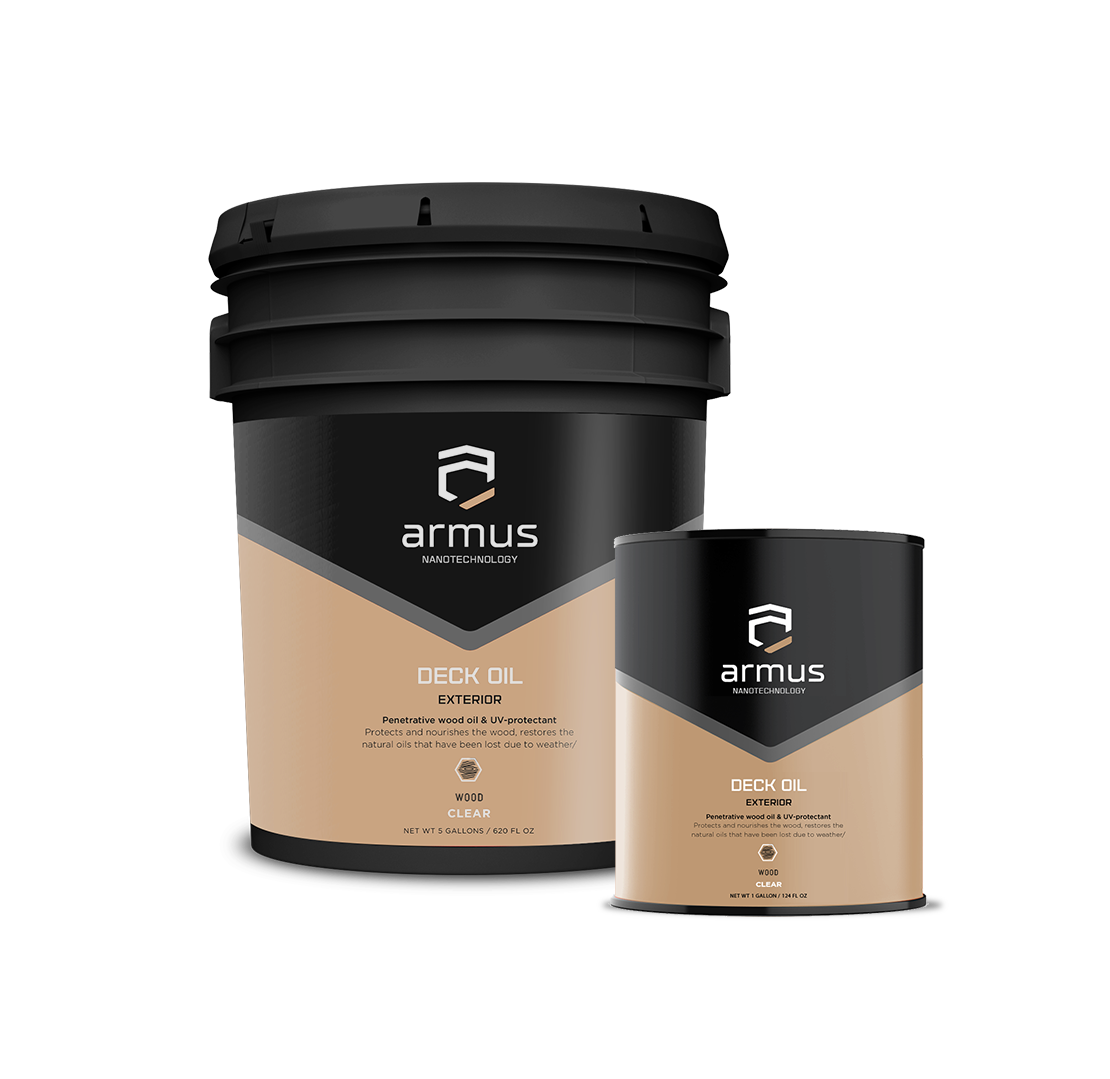 Water & Oil Resistant

Wet-Look Finish

UV-Protectant

Preserves Natural Appearance

Abrasion Resistant
Natural Untreated Wood
ARMUS Deck Deck Oil is a penetrative topcoat formula with excellent UV protection. The oil feeds the wood, restoring natural oils lost through weathering, with a wet-look finish. The abrasion-resistant finish is easy-to-clean, making Deck Oil ideal for any hardwood surface, subject to large contraction or expansion and weather exposure.
Water-damaged Wood

Sun-damaged Wood

Scratches & Abrasion
SURFACE PREP
Wipe all surfaces clean of dust & debris.

On unpainted surfaces, ensure surface is dry, 
   and rubbed down with a suitable abrasive paper.
APPLICATION
Stir well before application.

If applying over Deck Guard, wait 72 hours before applying.

Apply using airless sprayer, roller, or brush.

Surface should be a minimum of 41°F and at least 37.4°F above air dew point.

Good ventilation is required to ensure proper drying.

Test a small area before full-scale application.
ESTIMATED CONSUMPTION
Up to 488 sq.ft. per gallon, dependent on properties of surface.
FORM/TYPE

Oil Alkyd Resin

COLOR

Transparent

COMPONENTS

Single

THINNER/CLEANING SOLVENT

ARMUS Thinner A/B

VOC

400g/L

SOLIDS (%VOL)

30±3

TOUCH DRY TIME

1h @ 68°F (20°C)

DRY THROUGH TIME

2h @ 68°F (20°C)

FULL CURING TIME

24h @ 68°F (20°C)

MINIMUM RECOAT INTERVAL

7h @ 68°F (20°C)

FLASH POINT

:>140°F (60°C)

ABRASION RESISTANCE

Very Good
WARNING: 
Flammable. Keep away from heat.

Harmful if swallowed / inhaled.

May cause allergic reaction. 

Avoid breathing dust / fumes / vapors. 

Contaminated work clothing/gear should not be allowed out of the workspace.

Use in a well-ventilated area and wear proper protective gear and clothing prior to application.
STORAGE & DISPOSAL
Store indoors in a closed container. Carefully seal partly-used containers. 

Store in a cool, dry, well-ventilated area away from heat and direct sunlight. Protect from frost.

Shelf life: Up to 18 months after the production date.

Storage temperature should be between +50°F to 95°F.

Disposal of container and material safely according to local laws and regulations.
REQUEST INFO
Interested in this product? Please fill out this form and we'll send you more details.