Deck Guard UV
Water-based varnish topcoat with transparent satin finish that protects wood surfaces from sun-fading and water & oil stains.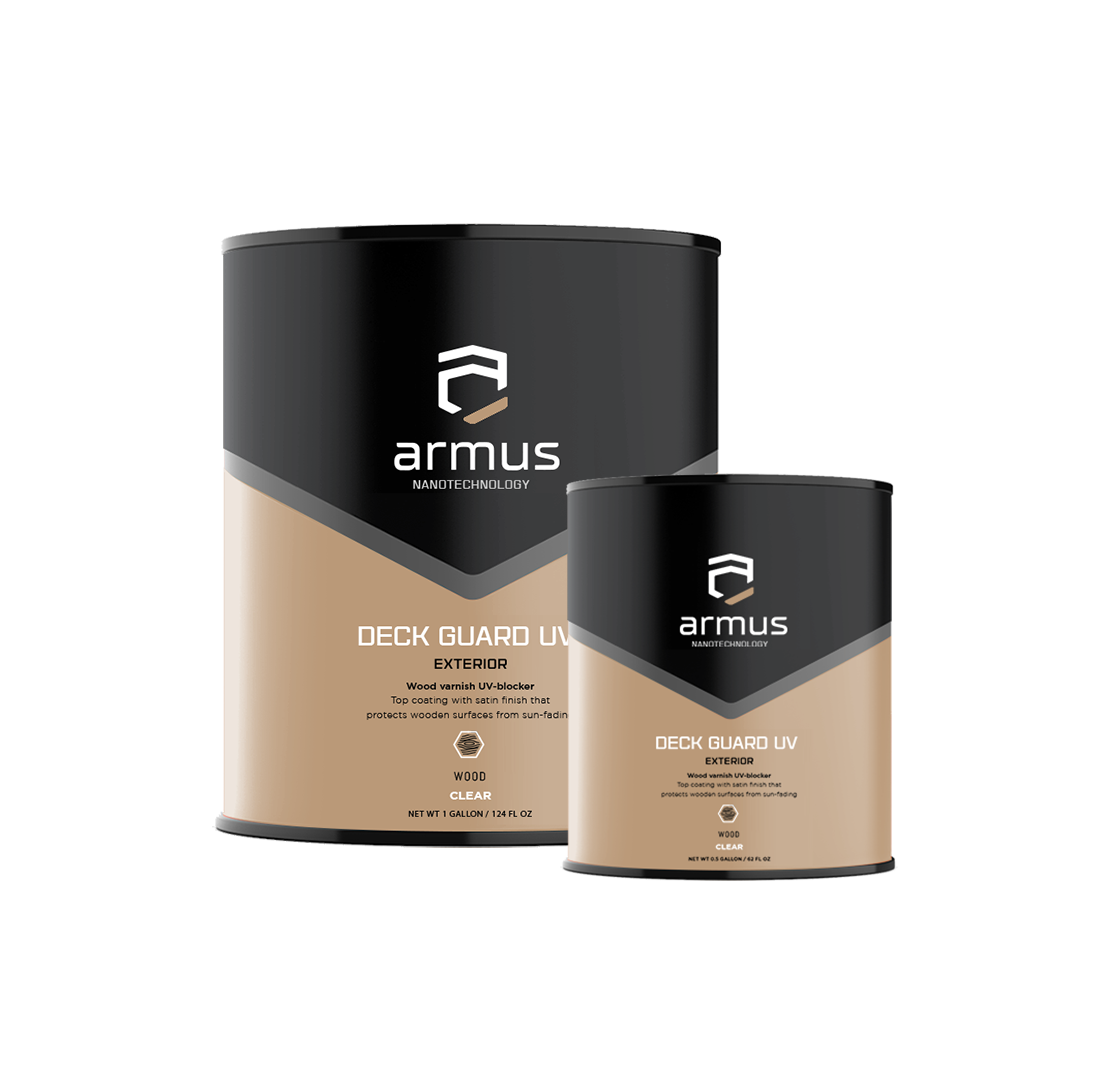 Penetrative Solution

Satin Finish

Water & Oil Resistant

Long-lasting Protection

UV-Protectant
Natural Untreated Wood
ARMUS Deck Guard UV contains nano-UV light filters that prevent the aging and discoloration of wood through sun-exposure. Along with UV-protection, Deck Guard UV has high water and oil-repellent properties. It is highly recommended that Deck Guard UV is used as a topcoat finish to Deck Guard.
Water-damaged Wood

Sun-damaged Wood
SURFACE PREP
Wipe all surfaces clean of dust & debris.

On unpainted surfaces, ensure surface is dry, 
    and rubbed down with a suitable abrasive paper.
APPLICATION
Stir well before application.

If applying over Deck Guard, wait 72 hours before applying.

Brush thinly & evenly, working varnish into wood grain.

Maintain a wet edge during application. Apply 2 coats. Do not over brush.

Additional coats should be applied 3-4 hours after first coat.

Test a small area before full-scale application.
ESTIMATED CONSUMPTION
Up to 407 sq.ft. per gallon, dependent on properties of surface.
FORM/TYPE

Liquid

pH

8.5±0.5

FLASH POINT: >199.4°F (93°C)
WARNING: 
May produce an allergic reaction. 

Avoid breathing dust / fumes / 

vapors. Use in a well-ventilated area and wear proper protective gear and clothing prior to application.
STORAGE & DISPOSAL
Store indoors in a closed container. 

Store in a cool, dry, well-ventilated area away from heat and direct sunlight. 

Carefully seal partly-used containers. 

Protect from frost.

Shelf life: Up to 18 months after the production date.

Storage temperature should be between +50°F to 95°F (+10°C to +35°C).

Disposal of container and material safely according to local laws and regulations.
SEE Deck Guard UV IN ACTION
REQUEST INFO
Interested in this product? Please fill out this form and we'll send you more details.