Deck Guard
Water-based varnish base coat which protects interior and exterior wood surfaces from weather, water and oil stains.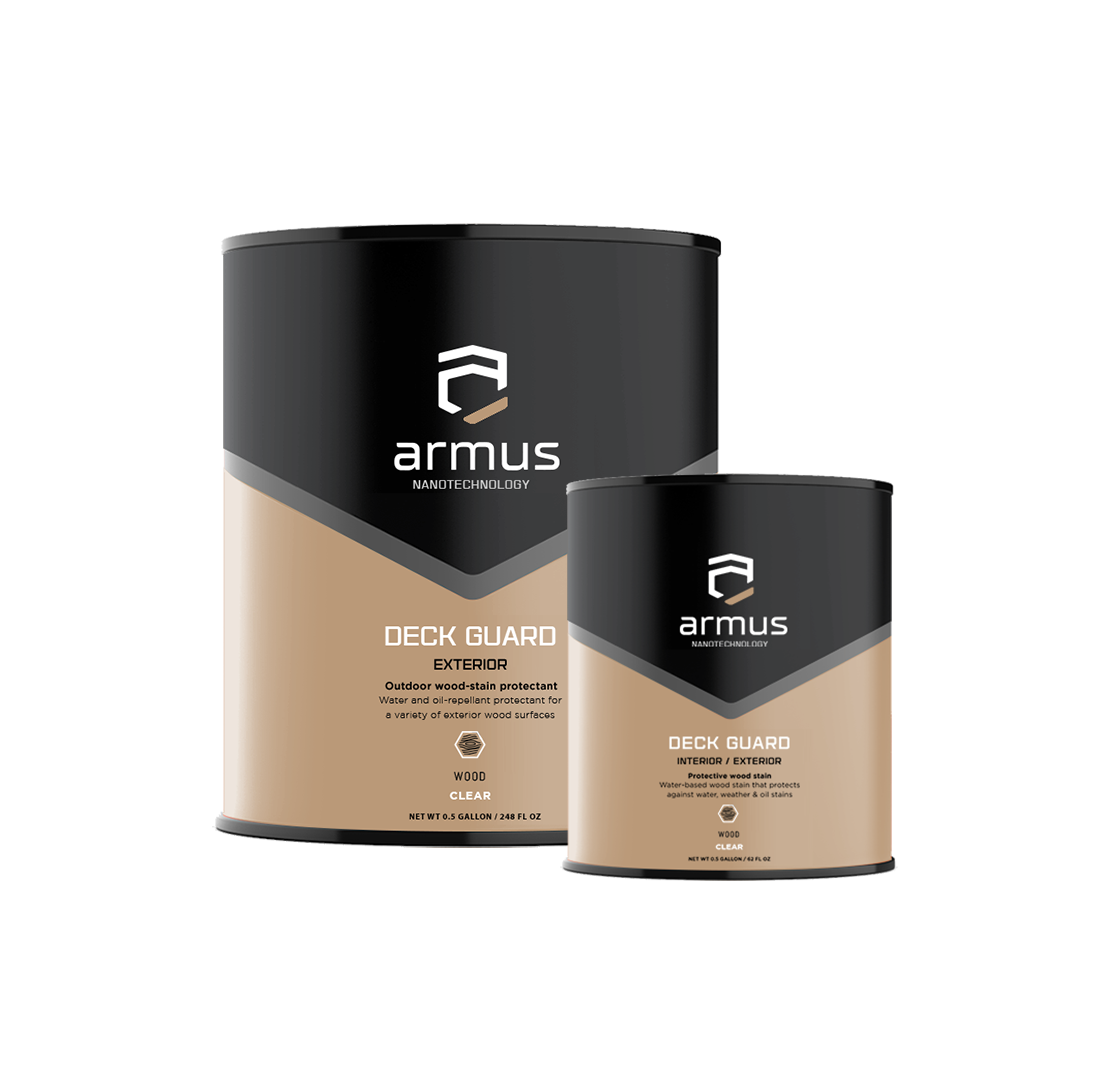 Water & Oil Resistant

Penetrative Solution

UV-Protectant

Retains Breathability

Long-lasting Protection
Natural Untreated Wood
ARMUS Deck Guard is a water-based varnish used as a foundation prior to the application of Deck Guard UV or Deck Oil on either interior or exterior wood surfaces. It protects against water damage and oil stains. The impermeable water-repelling barrier also provides protection against UV-fading due to sun exposure.
Water-damaged Wood

Sun-damaged Wood
SURFACE PREP
Wipe all surfaces clean of dust & debris.

Remove any other wood stain or varnish from
   from the surface prior to application.
APPLICATION
Stir well before application.

Brush thinly & evenly, working varnish into wood grain.

Maintain a wet edge during application. Apply 2 coats. Do not over brush.

Additional coats should be applied 3-4 hours after first coat.

Test a small area before full-scale application.
ESTIMATED CONSUMPTION
Up to 407 sq.ft. per gallon, dependent on properties of surface.
FORM/TYPE

Liquid

COLOR

Various

pH

8.5±0.5

FLASH POINT

>140°F (60°C)

VOC

3.1g/L
WARNING: 
May produce an allergic reaction. 

Avoid breathing dust / fumes /

 vapors. Use in a well-ventilated area and wear proper protective gear and clothing prior to application.
STORAGE & DISPOSAL
Store indoors in a closed container. 

Store in a cool, dry, well-ventilated area away from heat and direct sunlight. 

Carefully seal partly-used containers. 

Protect from frost.

Shelf life: Up to 18 months after the production date.

Storage temperature should be between +50°F to 95°F (+10°C to +35°C).

Disposal of container and material safely according to local laws and regulations.
REQUEST INFO
Interested in this product? Please fill out this form and we'll send you more details.