ARMUS Cleaner
A fast-acting natural cleaner that removes residue, efflorescence, mold, and mildew from various surfaces.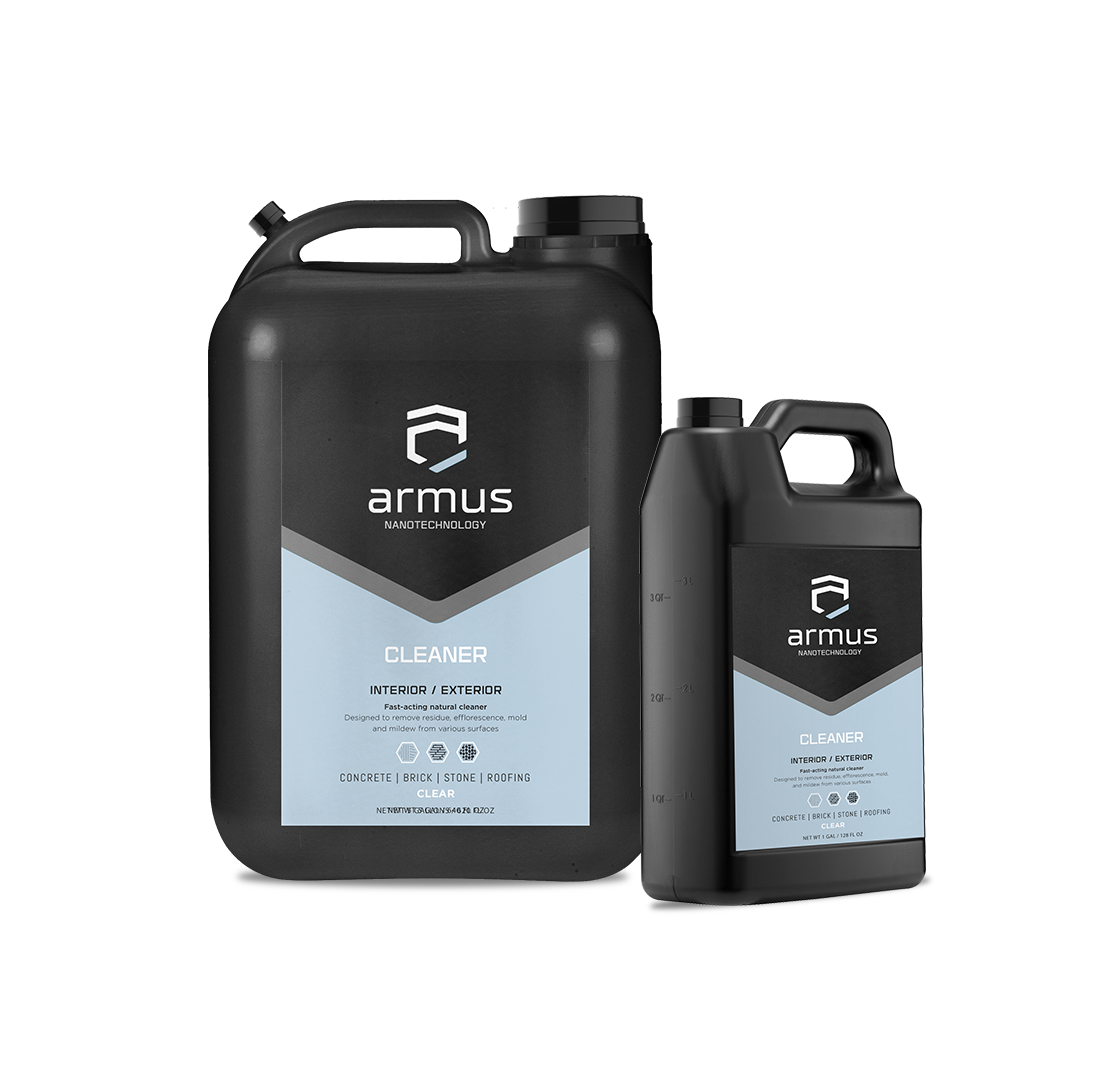 Easy to Use

Fast-Acting Formula

Preserves Natural Appearance

Removes Mold & Mildew

Cost-Effective
Concrete

Brick & Mortar

Porous Stone

Roofing
ARMUS Cleaner is a fast-acting concentrated natural-acid effective in removing stains and organic growth, and salt deposits from efflorescence from a variety of surfaces. Its natural acid makes it suitable for use in food-processing facilities and other sensitive equipment as it leaves not residue on treated surfaces after thorough rinsing with water.
Mold & Organic Growth

Efflorescence

High Cleaning Costs
SURFACE PREP
Wipe all surfaces clean of dust & debris.

Wear protective gloves & gear before applying
APPLICATION
Shake well prior to application.

Rinse the stained surface with ARMUS Cleaner without dilution.

For lightly stained surfaces, dilute with water up to 1:5 ratio.

Wait for ARMUS Cleaner to act on the surface for 2-3 min.

Remove residues by scrubbing with a hard sponge. 

Do NOT use a metal sponge to scrub surface.

After residue removal, rinse surface thoroughly with water.
ESTIMATED CONSUMPTION
Up to 325 sq.ft. per gallon, dependent on properties of surface.
FORM/TYPE

Liquid

FLASH POINT

>93 °C
WARNING: 
Causes serious eye irritation.

Wear protective eye / face protection.

Wear proper protective gear and 

clothing prior to application.
STORAGE & DISPOSAL
Store indoors in a closed container. Storage temperature should be between +50°F to 95°F (+10°C to +35°C).

Disposal of container and material safely according to local laws and regulations.
SEE ARMUS Cleaner IN ACTION
REQUEST INFO
Interested in this product? Please fill out this form and we'll send you more details.