AES Guard
A nano-formulated asphalt epoxy sealant designed for foundations located below-grade and/or below the water table.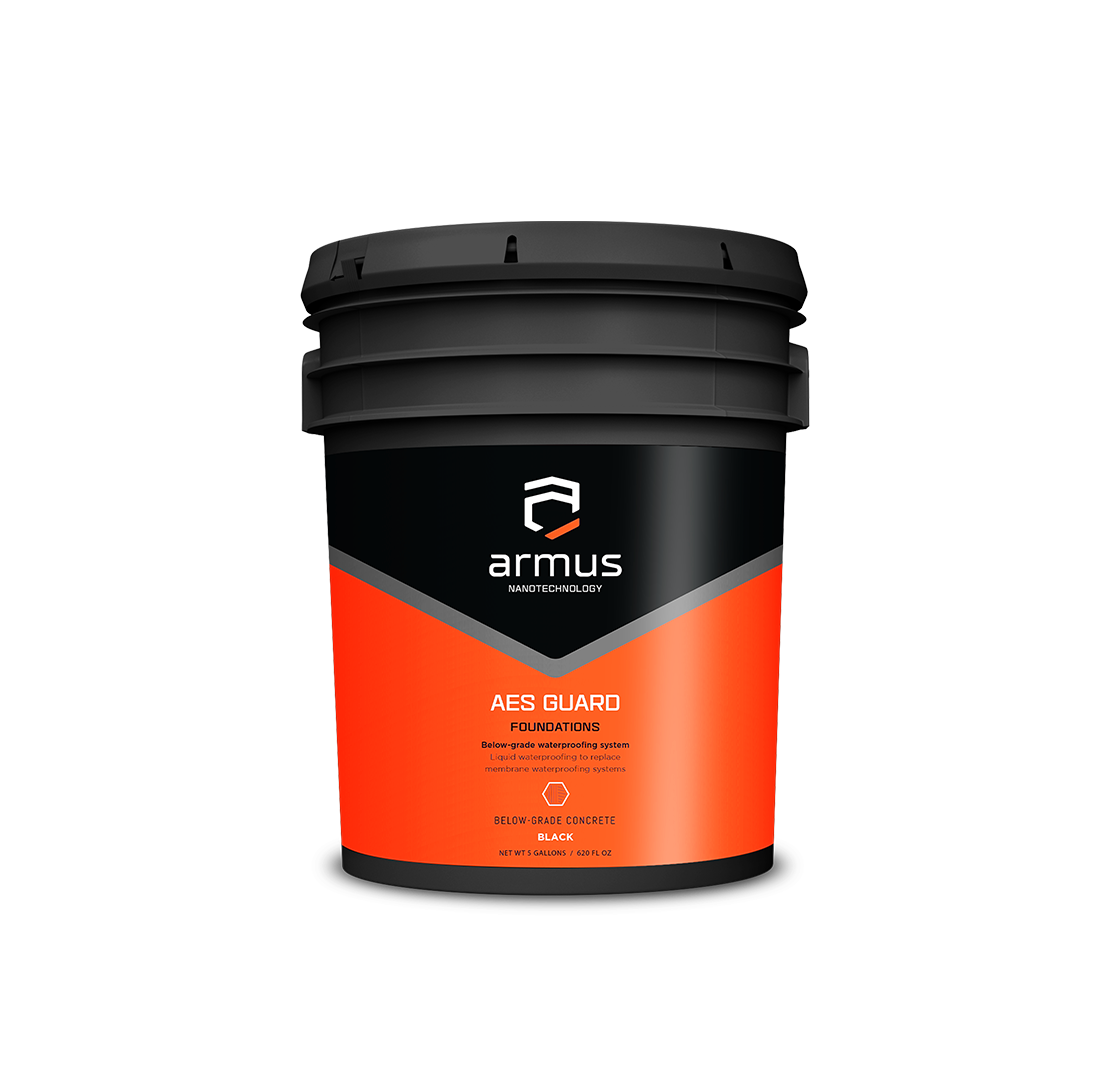 Long-lasting Protection

Below Grade Up to 30ft

Water & Oil-Resistant

Retains Breathability

Mold & Algae Protection
Concrete
AES Guard replaces membrane systems that are at risk for punctures and failure due to mechanical stress. It works best in below-grade projects adjacent to high-water table geology. This makes AES Guard the ideal solution for all types of projects by bodies of water or near the coastline.
Water-damaged Foundations

Membrane Punctures

High Repair Costs
SURFACE PREP
Wipe all surfaces clean of dust & debris.

New substrates should be cured > 4 weeks prior to application. 
Perform all repairs to damaged surfaces and fill 

any cracks, or holes by using the appropriate repairing material.
APPLICATION
Mix base and hardener well.

Stir well for 3 minutes to ensure both are fully mixed.

Apply to substrate in an even coat.
ESTIMATED CONSUMPTION
Up to 50 sq.ft. per gallon dependent on the properties of the surface applied
FORM/TYPE

Liquid

INITIAL BOILING POINT

> 95°F (25°C)

FLASH POINT

23 < T < 60°C
WARNING: 
Use in a well-ventilated area.

Remove and wash contaminated 
   clothing prior to reuse.
Wear proper protective gear and 
   clothing, eye or face protection prior to application.
Combustible & flammable liquid. Keep away from heat or open flame. Do not smoke while using this product.

May cause an allergic skin reaction..

May be fatal if swallowed or inhaled.

Toxic to aquatic life with long-lasting effects.
STORAGE & DISPOSAL
Store indoors in a closed container in a well-ventilated area. Storage temperature should be between +50°F to 95°F (+10°C to +35°C).

Protect from frost.

Disposal of container and material safely according to local laws and regulations.
REQUEST INFO
Interested in this product? Please fill out this form and we'll send you more details.